I create responsive, interactive user experiences with modern front-end technologies.
JavaScript
AngularJS
Accessibility
Gulp
SASS
HTML5
About Me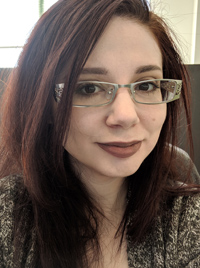 Web development has been a passion of mine for a large part of my life, and I love to make cool new things. I made my first website in 2003 with Tripod's site builder, and learned HTML and CSS by modifying the markup and styles it generated so the design would look how I wanted. The web has grown a lot since then, and so have I. In 2013, I graduated from the Rochester Institute of Technology with a Bachelor's in New Media Interactive Development and a minor in Japanese Language.
My specialty is front-end web development, but I am interested in learning more about how to develop back-end systems and manage databases effectively. Previously, I've worked at GEICO and SapientNitro, and I am currently employed at CVS Health. You can learn more about my skills and background on my LinkedIn profile.
When I'm not coding, I love to play video games, cook, listen to audiobooks, doodle, and watch horror films.